Honda
CBX1000 6 Cylinder was a Legendary (multi valve bending*) standard / UJM motorcycle from the Big Japanese firm. First introduced in 1978 and then, discontinued in 1982. This classic Japanese motorcycles was developed when four Japanese manufacturers are competing to create the first true Superbike
.
At that time, as chairman, Soichiro Honda, Decided to select the Parallel-Inline 6 cylinder engine, which will be used in the CBX - compared with other options namely Inline 4-cylinder 1000cc or 1200cc. Soichiro actually is already familiar with a 6 cylinder engine. At the 60's, He also had to make a far more devastating masterpiece, Honda RC166 250cc six-cylinder, that once drove Mike "The Bike" Hailwood became 250cc World Champion.
But apparently, the CBX development was not without obstacles. The most confusing part for Soichiro Honda was how to put the 1047cc six cylinder inline engine with a width of almost 60 cm to CBX Frame, plus Reduces the jarring sound from very powerful machine, without having to sacrifice comfort and rider's satisfaction.

Finally, with minimizing Crankcase Engineering, Stretched fuel tank design, exhaust & placement dispensing cylinder block made tilted forward 30 degrees, Made CBX finally ready for launch !
In the Design & Detail, Honda put the various Regulatory Electrical and Ignition reversed / behind the machine to keep reducing the size of the width of the CBX - that is always be a major issue. CBX1000 use the high quality Chromoly Diamond-Frame. In the frame itself, there are 8 Mounting to the engine - 4 on Cylinder Head & 4 other at Gearbox Crankcase.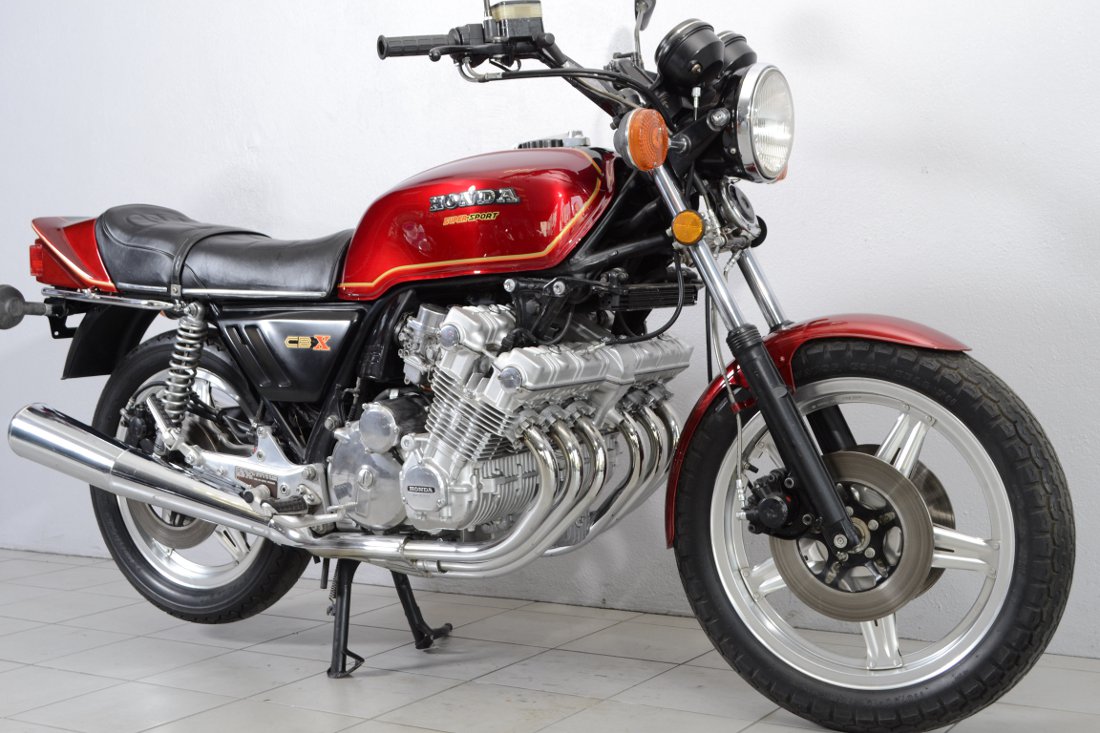 CBX 1000 using 35mm Telescopic front suspension and Double-Shockbreaker rear suspension - until the third version in 1981, the suspension changed by Pro-Link monoshock the rear.
More about the CBX, This masterpiece is equipped with Parallel-Inline 6 cylinder 1047cc engine, DOHC 24-Valve, 5-Speed Transmission, and also 6 Barrel Keihin VB28mm Carburetors. With a compression ratio of 9.3: 1, Maximum power CBX 1000 reaches 103 HP and accelerates 402 m in a time of 11.6 seconds with a maximum speed of 189 Km/h (118 mph). Real Top Speed of the CBX reaching 216 Km/h (135mph) !

Here are the complete specs for the Honda CBX1000
Manufacturer : Honda Motor Company
Engine : 4-Stroke, Air Cooled, Inline 6 cylinder, DOHC, 24-Valve
Bore x Stroke : 64.5 x 53.4 mm
Cylinder capacity : 1.047 cc
Compression Ratio : 9.3: 1
Fuel supplies : 6 x Carburetor Keihin VB28
Maximum Power : 103 HP @ 9000 rpm
Maximum Torque: 85 N.m @ 8000 rpm
Top Speed : 215 Km/h (135 mph)
Frame : Chromoly Steel - Diamond Frame
Front Suspension : 35mm Telescopic Fork
Rear Suspension : (1978 - '80) FVQ Dual Shockbreaker, (1981 - '82) Pro-Link monoshock
Brakes Front : Dual 276mm Disc
Brakes Rear : Single 296mm Disc
Fuel tank capacity : 20 Liter